Travel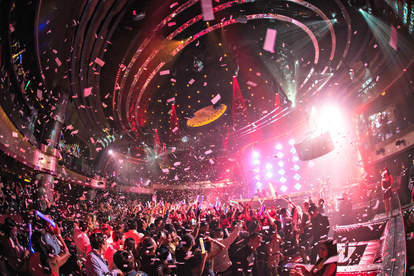 Jewel Nightclub/Tony Tran
After spending all day at the wildest pool parties on the Strip, you may want to chill out, recover, and relax with a good book in the silence of your hotel room. Or you can double down and spend all night at one of the hottest nightclubs in Las Vegas. Each one is a prime destination for being seen, hooking up, and paying way too much for a Jack and Coke. But you're not here to drink. You're here to dance, pump your first, and hear music from the world's most loved (and highest paid) DJs. Think of it as high-intensity training for the next edition of EDC. So get familiar with the best nightclubs in Vegas — and then make friends with someone who can get you on the VIP list. 
Omnia/Hakkasan GroupCaesars Palace
Dance the night away under a crazy high-tech chandelier
When it comes to nightclubs, you can't go wrong with Omnia. After opening in 2015, it still has that "like-new" club feel with a rooftop terrace that shows off killer views of the Strip from Caesars Palace. The star power is huge. Calvin Harris plays semi-regular Friday night sets and Tiesto stops by when he isn't busy at sister club Hakkasan. Other headliners include Zedd, Martin Garrix, and Steve Aoki. Technology is almost as big an attraction as the DJs. The main room — modeled after the Metropolitan Opera — is famous for its massive 22,000-pound chandelier that hovers above the dance floor and moves to the music. It was designed with your Instagram feed in mind. The smaller club-within-a-club Heart of Omnia is the space formerly occupied by Pure. Sundays usually feature Latin music on the terrace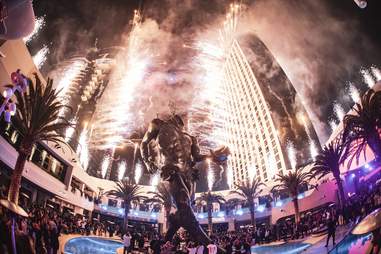 Kaos/PalmsThe Palms
Indulgent party spot makes full use of its outdoor pool deck
When Station Casinos renovated the Palms, the company went all-in with Kaos — a nightclub and dayclub that blends almost seamlessly from its indoor dance floor to an expansive pool deck. At the center — a 65-foot-tall bronze statue of a naked headless figure. (And yes, he's the only one allowed to go nude by the pool.) Palms invested heavily in its headliners, which include Cardi B, Marshmello, and G-Eazy. Here's a tip — if you want to skip the cover charge and long security lines during the day, book a brunch reservation at Greene St. Kitchen. The patio overlooks the club and guests have direct access to party after their meal.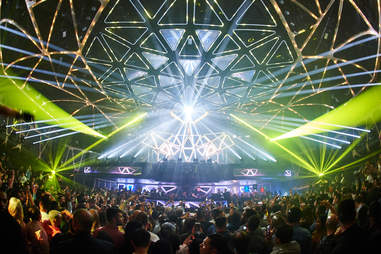 Hakkasan Nightclub/Yoder ProductionsMGM Grand
Three-level club has its own restaurant, valet, and groundbreaking light show
Hakkasan has been around since 2013, but is keeping things fresh with a new grid over the main room billed as the world's largest kinetic light art installation. It's a spectacle of changing lights, colors, and imagery that only enhances sets by EDM headliners like Tiesto and Zedd. Head downstairs, where the smaller Ling Ling Club hosts open-format DJs and the Ling Ling Lounge (keep 'em straight) has its share of chill and hip-hop. Pre-game next door at Hakkasan Restaurant — a Cantonese fine dining spot with direct access to the club — and take advantage of the free Hakkasan valet for those with dinner or VIP table reservations. It's worth it to avoid the long walk from the MGM Grand parking garage.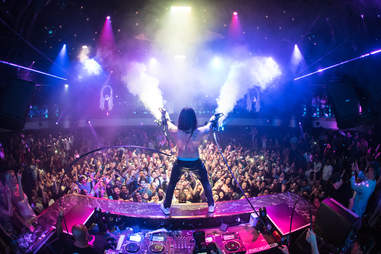 Jewel Nightclub/Powers ImageryAria
Modern club with high-tech effects and themed VIP rooms
Jewel is a little smaller than some of the other clubs in Vegas, but that only adds to the energy and atmosphere at this ultra-modern party spot. Between the hip-hop of Tyga and the EDM of Steve Aoki, Jewel makes a point to have an eclectic lineup of resident headliners. The wow-factor is felt in the illuminated staircase by the entrance and the LED video effects near the stage. Five large VIP rooms overlook the main floor — each with its own theme. For example, the G.O.A.T. pays tribute to American sports while the Blind Tiger is modeled after a vintage speakeasy. Flawless Mondays is a busy industry and locals' night.   
Seva KalashnikovThe Cosmopolitan
Three distinctive rooms and a pool deck 
Marquee allows you to choose your own experience. Party hard in the main room, where an elevated DJ booth gives clear views of the button-pushing and fist-pumping as it happens, or hang by the pool where you can soak in the lights of Las Vegas. The Boom Box on the other hand, is more of a cocktail lounge — but don't worry, you can still invest in bottle service — with windows that overlook the Strip. The Library has bookshelves with a pool table and fireplace. The DJ lineup isn't as heavy on star power as some other Vegas clubs, but Marquee more than made up for it by locking down a Travis Scott residency. When the sun is out, Marquee Dayclub is one of the busiest (and most tightly packed) pool parties on the Strip. 
XS/Wynn Las VegasEncore at Wynn
DJ booth rotates between indoor and outdoor spaces
XS has been around for 10 years now — a lifetime in Vegas — but instead of trying to rebrand itself or tweak its identity, the venue remains fresh and timeless with frequent design updates. Of course, it doesn't hurt to have big-name residencies by the likes of Drake, the Chainsmokers, and David Guetta either. A rotating DJ booth separates the main dance floor and an outdoor pool deck that hosts Nightswim parties on Sunday nights. The place is all about indulgence with real gold decor and 10,000 individual light fixtures to keep the mood in check. You've also got 170 VIP tables and cabanas for maxing out your credit card on bottle service.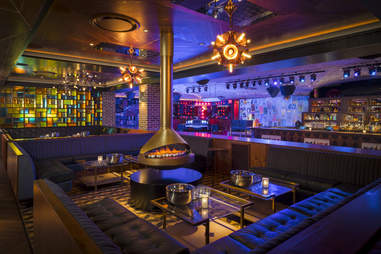 On the RecordPark MGM
A playful, retro vibe for nightclubbers who don't always like nightclubs
While the nightclub scene has its share of redundancy, On the Record does its best to put a fresh spin on the concept. It's really more of a glorified lounge, decorated in vintage concert posters, a DJ booth that resembles a Rolls Royce, and a fireplace in the center of an area known as the Living Room. The outdoor patio has a British double-decker bus serving drinks and, if that's not enough to keep your attention, head to one of three karaoke rooms — each one dedicated to a different decade — and belt out your own entertainment. There's also a secretive speakeasy-style bar where the focus is on cocktails. Overall, the playlist skews retro with a fair share of '80s and '90s hits you might actually recognize.
Encore Beach Club/Wynn Las VegasEncore at Wynn
Outdoor pool party where you can swim day or night
Formerly known as Surrender, this outdoor venue was given a name change to reflect its shift to an all-swim format. Day, night, doesn't matter. Dress codes are beyond relaxed. EBC has a small indoor area, but it's really about the expansive pool deck and towering palm trees. The club shares most of its headliners with XS, including the Chainsmokers, Kygo, and DJ Snake. There are enough cabanas, bars and even a few blackjack tables to keep things interesting.
1OAK/Hakkasan GroupThe Mirage
Old-school club with a timeless image and vintage touch
The name stands for "one of a kind" — an odd choice since the club has counterparts in New York and Los Angeles. Don't worry about it. The Vegas edition has been around a while, but still has plenty of charm and character with black leather couches, chandeliers, and neon signs. Even the artwork isn't something you see often at other clubs. It's an easy-to-navigate layout, although a second room for VIPs is tucked out of sight. The resident DJs crank out a steady diet of EDM and top-40, although occasional headline acts lean toward rap and hip-hop. If you want to check out the venue outside club hours, modern lounge crooner Matt Goss does regular shows at 8pm.   
TaoVenetian
Dark, dramatic nightclub operates above an Asian fine dining restaurant
With a pool upstairs and an Asian restaurant downstairs, Tao tends to stay busy and is one of the more versatile clubs on the Strip. Bathtubs filled with rose petals line the entranceway, and while the outdoor balcony could be a little bit bigger, it still gives you a chance to escape the chaos and grab some fresh air while overlooking Las Vegas Boulevard. The club is divided into different rooms — with DJs mixing up formats — alongside dark stone and dramatic Asian decor, as well as dancers performing in enclosed cases. Yes, Vegas can get away with that in 2019. Regular DJs include Chuckie, Vice, and Justin Credible. Worship Thursdays is a long-running industry and locals' night.   
Drai's Nightclub/Erik KabikThe Cromwell
Hip-hop headliners, pool, and views from 11 stories above the Strip
If you're looking for a club with great views, Drai's is the best choice — day or night. The party destination is on the top floor of the Cromwell hotel with sweeping views of the Strip. (Pull out your phone and start snapping.) The main stage is indoors although acts often perform on the outdoor pool deck as well. Rap and hip-hop fans will be happy to see the likes of Migos, Gucci Mane, Meek Mill, Lil Wayne, and Wiz Khalifa. Fans of Jersey Shore will be happy with regular sets by DJ Pauly D. Get the full experience during Swim Night Thursdays. A smaller sister venue, Drai's After Hours, is tucked away in the Cromwell basement — geared toward partiers who want to wind things down during early morning hours, but aren't quite ready to go to bed. 
Light NightclubMandalay Bay
Massive video wall and hip-hop headliners
DJs cover EDM, house, and top-40, but the headliners lean toward rap and hip-hop with residencies by Rick Ross, Saweetie, and Jeezy. Catch rapper E-40 on Function Fridays. Yet the biggest attraction here is the large video wall behind the DJ booth, which is in clear view of the club's staggered levels. Overall, Light has an industrial feel with everyone pretty much facing the same direction.   
Chateau/Anthony MairParis Las Vegas
Outdoor nightclub is all about atmosphere with a rooftop deck overlooking the Strip
After its indoor space was annexed for Beer Park's indoor expansion, Chateau is now strictly a rooftop party spot. That's not a bad thing. The club's strength was always its outdoor patio, which sits underneath the Paris casino's half-size Eiffel Tower replica and overlooks the Bellagio fountains across the street. Hang out underneath string lights with a vodka cranberry or work up a sweat in the Vegas air on the dance floor. (Hey, it's a dry heat.) Chateau doesn't invest heavily in big-name DJs, but the vibe is a lot more loose and less intimidating than what you might come across at larger clubs. 
Sign up here for our daily Vegas email and be the first to get all the food/drink/fun in town.
Rob Kachelriess has been writing about Las Vegas in Thrillist for more than five years. His work has also appeared in Travel + Leisure, Modern Luxury, Leafly, and Luxury Estates International's seasonal publication. He's wondering if he should have been a DJ instead of a writer. Follow him on Twitter @rkachelries.